Dismiss Notice
So recently after the reopening this Friday I quickly came to realize that Iover looked a pretty big that was bothering game administration but it was a little too late when spam bots flooded the server with advertising bots and when my staff quickly ipbanned them, not knowing that everyone would also be ipbanned too if they left the server haha.
So that was awesome, but tonight was the best night of the weekend. Tonight I've took it upon myself to finally have player data relay to Mojangs authenticated servers.
So what this means is that if you decide to change your name, you can finally come back and not be worried
so from now on when you're on the Factions server and you're like "Oh shit, where's my shit?" just contact a staff member for help. We can recover inventory, enderchests, balances, and homesets. Or you can use this link for the form they'll just direct you to.
Oh and also, disband your faction if you're the leader of it and create a new one.. Don't forget to reclaim your land.
I appreciate everyone's patience, the server has been performing well since the change of host and I love that everyone's enjoying it too.
This isn't for much long, maybe an additional 24 hours for our 50% off everything sale going on at our webstore.
http://store.kastia.net
Hi,
First I would like to apologize for all the downtime we've had this past week, my team and I have been working tirelessly to provide a better playing experience with this much needed update I'll break it down by list of servers and misc.
Kastia servers have transitioned to a new hosting provider, MCProHosting on their best dedicated servers option, the Xeon E3-1270v3 from the former Xeon E5-2675. When comparing the two by single thread power, the new servers kick it into high gear scaling much higher in performance grade than the old machines.
Global Updates
​
Implemented your group prefix into the tablist, this was a huge request

Majority of the ranks have been transitioned into MySQL stored tables for security and speed when delivering new ranks.

Added a new menu when trying to reach hub to prevent rage quitting ''/
Were you Kicked, Banned, or Muted? It's now public on the website navigation under "X Bans"
Now tracking total playtime, sorry for not doing it earlier. Use /onlinetime to see total time online.
By the time you see this, we're happily introducing 4 new

Builders

into our creative division, so if you see them in game, don't be afraid to say hello and congratulate them.
New in-game chat filter
Congrats to Youngmetroboomin, Airennn, Pyxllcreates,
Gingaaa
Hub Changes
​
Complete new Hub navigation + updated permissions

New Navigation compass to the Game Selector (+now showing active players playing)

Mysterious Green Wool in factions menu.. xBayani?? New Builders? find out..

Rank royal exclusively has access to particle cosmetics in hub

Rank noble+ exclusively can summon pets in hub

Knight+ can now fly in hub

[Royal Club] private discord room with Owner
Kit PvP 2.0 [ NEW MAP + DUELING]
​
​
Firstly, it's going to be just called Kit PvP, no longer other name confusion. Let's stick to what we know
We are 7 days away from the end of the Kit PvP monthly champion, the prize will be a global suffix unique to every top pvper.
New addition of Dueling, tag someone you want to 1v1 with the inventory Blaze. (+New 1v1 Map)
FFA map "Seasons"
New Dracula Kit for 1300 coins, regenerate after every hit + spell cooldown
Tracking kill assist system, share death contributions with kill assists.
Added kill streak rewards, stay on fire after every kill for better rewards
Now see a kit before you buy it in the Shop with "right click to preview". Collect more coins with kills.
Global ranks

Knight,

Noble,

Royal have increased modifiers to 2x, 4x, 8x!
Default coins per kill is also now

10

ADDITION: "Unbreaking 4" enchant to 32 kits; armor will no longer break

NERF: Miner Kit
Factions Update
​
Newly added kit

[Helper]

,

[Mod]

,

[Admin]

, and kit

[Owner]

and even

[Builder]

. This is the armor the new staff members will be using, so if you can catch them slipping, take their armor!
Added 100 new words into "K+ Reaction Game"
I hope you really enjoy this update, these past 96 hours of downtime I've been working hard to provide a better playing experience for all. We have a SUPER FLASH 50% off Sale on ALL Ranks!
(TODAY ONLY)
store.kastia.net
​
It's disrespectful to me and the community players I represent when I trust you back into my community of privileged helpers and you use it to your own advantage.
Today I'm publicly denouncing the roles of two helpers who were caught abusing economy and sharing leaks in our system with their faction members to grow in top balances.
Faction, Ikea has lost two member and an alt and Squad lost a member for abusing economy after the server had crashed a few times over the night, I check logs everyday when I wake up so this wasn't unusual but seeing two helpers I trusted and lying to me about it was enough. They're not to be trusted because no matter what, they stuck to their story with the overwhelming amount of evidence we held and even lied to the faces of all their peers and people they called friends. The prize pool for the season is still $500 and this was the reason we reset in the first place. These cheaters and liars were held accountable and I'll defend this Faction season until the end to find the best Faction crew on the server.
Faction leaderboards will update soon with new values.
ADDED UPDATE: IKEA IS NOW DISQUALIFED FROM SEASON ONE COMPETITION​
Special Weekend Sale
Join Kastia this weekend for special fun on Factions McMMO + Battle Royale!
​
Current Faction Standings:
Ikea
Phantom
Forbidden
Vendetta
Walmart
ItsEryDayBro
Narcotics
Squad
Gary
Diversity

You can now buy potions (replacing armor) and more misc items:


Thanks for playing on Kastia!
​
​
Battle Royale -
There is only 15 days left until the Royale winner gets announced and gets his special suffix globally on the server. Get on, grind kills and be the only player on the server with a unique suffix that will carry with you forever to show foes that you're not to mess with.

Factions -
We've been working on this particular gamemode on / off these past couple of weeks and can't help but notice how almost flawlessly the gameplay experience is. If there is something you think we should add / remove let us know in the comments and we'll reply back and add most requested features!
Hub Ranks -
Are you a Knight? Noble, or Royal? If not, it's a rank you don't want to miss out on. We've reintroduced global ranks and they're going to provide unparallel new experiences to players on the global server with uncanny features that you'll love! The webstore is now on sale for a limited time only and you don't want to miss out!

Builder Apps -
We are looking for new builders! are you one? Can you be our xBayani to our Graser10? if so, please apply on the Builder apps form! builders get special privillege to see and play unique games before they're out, special prefixes, and the joy of working on Kastia builds! Apply today:
https://goo.gl/forms/GPugJN4sNTGGlfH93
Global ranks, Special rank suffix reward for Battle Royale..
​
It was easy to find some models for this Kit Pvp screenshot, but they weren't as enthusiastic about saying 'pickles' for the camera
​
Global Ranks:
Global ranks are coming back rebranded, and they're starting with anything you have on Battle Royale will transfer over to prevalent ranks in Mini Games. Example - Royal on Kit PVP will stay with you on potential other games.
​
Top Battle Royale Champion:
To incentivize more competitive play into our pvp based gamemode we're putting up Epic rewards for suggested top pvper on the standing leaderboards at the end of every month. The reward will be a custom suffix that will be displayed globally when you're on the server. Only one winner can have it each month. Fighters are also suggestive to keep good KD ratios for bonus points. Good Luck




New Map Incoming for Battle Royale

As promised, in our first week of opening I would open up Helper applications to help moderate the server. Today I'm closing those forms until further notice.​
Congratulations to:
GrayBae
xWolfieeee
KittyAyome
Sharkie
xLeahDood
in addition to the weekend Faction reset, we're changing a few rules to Season 01 + new updates..
Updates like these will continue in the Changelog for future events.
New $500 prize pool for Top Faction at the end of Season 01
More details available on the official post under "Contests and Events"
You can easily buy and sell items with the new command menu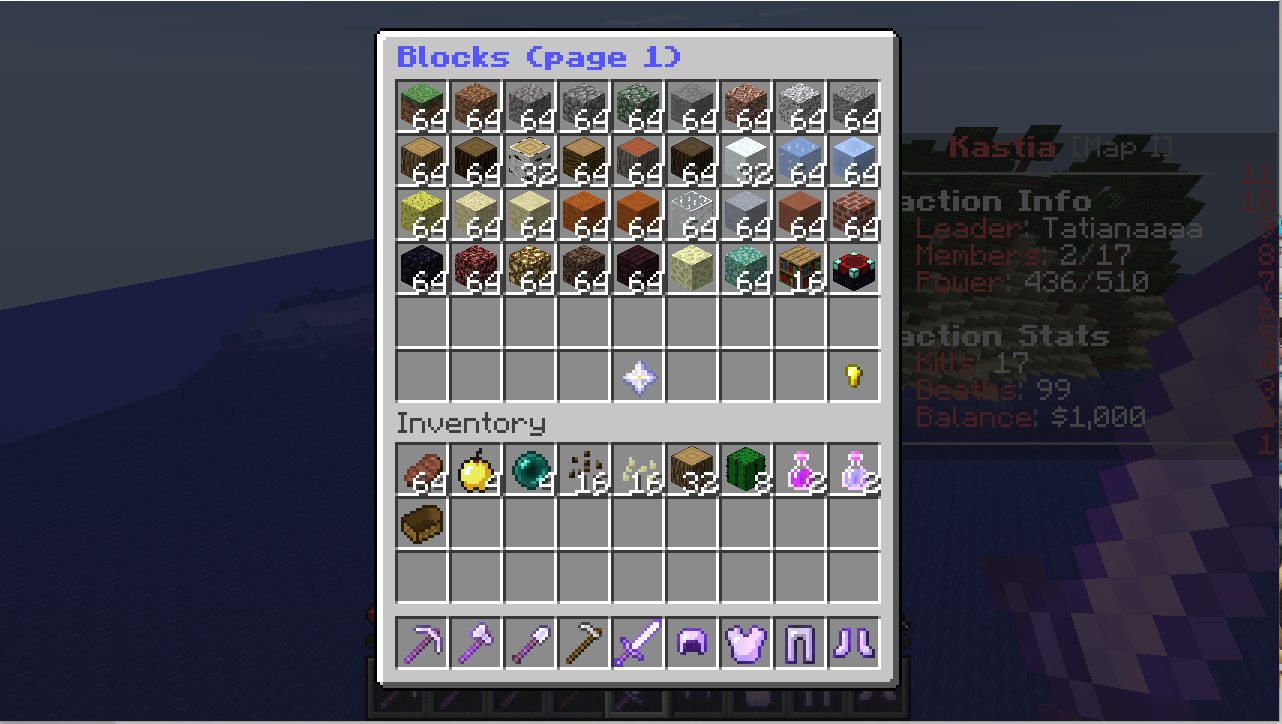 ​
Now including /redeem GUI
Now facilitating the way players can redeem and keep track of mcMMO levels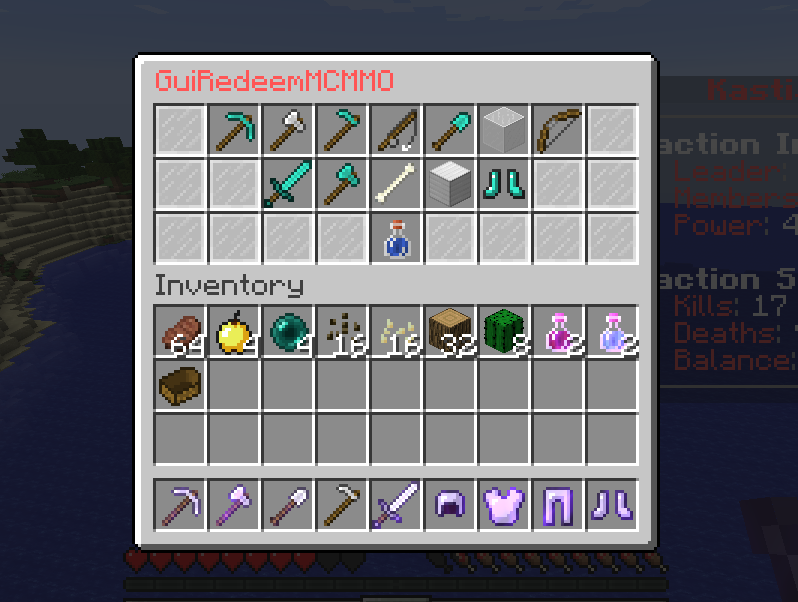 ​

[Changelog]
Players no longer pay for Land Claim
Schematica (+printer) now allowed in our "Approved Mods" rules
World Border is now a Square
Cobble + Sand Genbuckets now available in /Shop
/spawners is a shop GUI for buying spawners (price increase)
Any player rank greater than Duke+ can stack potions
/nick has been removed as rank incentive
Double Farm growth rate
Players can either get Kits or permission for Kits in the Legendary crate, no longer changes your rank.
Updated Legend crates to have more friendly items
Updated in game announcement when crates are opened
Add Shovels to the rank kits
Added unbreaking X to Training tools
The server will open in the evening after an announcement on twitter @KastiaMC
​
As a lot of you may already know, Kastia opened it's doors and returned with one of the most beloved game modes, factions. We know a lot of you have a love and a passion for factions and that's why we have decided a reset is the best option.

Why?
As of late, we have realised that one of our plugins has an exploit. This exploit has allowed players to gain access to thousands of duped items and allowed for them to cheat their way to the top. As a result, we have removed this plugin and we tried to clear the damage that it has made. However, we were unsuccessful in clearing all the duped items and to keep things safer and fair a reset would be the best option.

What is a reset?
A reset simply means that all player data, excluding ranks/kits and any purchased items, will be cleared. This includes, but is not limited to, faction's, homes, balances, ender chests, inventories etc. This way no one will have access to illegal items in the game! Thus keeping it fair for everyone and a safer place to play.

What you will Lose:
ALL economy, home sets, items, spawners completely reset!
What you will Keep:
Ranks, Kits + Crates (this time only; wont always be returned on resets)

We apologize for the inconvenience but we hope you understand this decision.

Thanks,

The Kastia Team
Battle Royale is a KitPVP mini-game. After a lot of hard work from our team, we can finally say that Battle Royale is ready to open.

Join us as we get ready for battle. You can choose from a wide array of kits and earn coins by killing other members. ​
We'll see you there!

play.kastia.net​