Dismiss Notice
Hiding behind server maintenance and upgrades, today and today only you'll be able to join the Parkour server that was previous exclusive to Knight+ hub donors.
This is not the final or release official version and is just meant to be a filler for the time being while other things are worked on.
ONLY AVAILABLE FOR THIS WEEKEND (UNTIL JULY 31st)
The server can be reached in the

Game menu

or access with /server parkour
Free Game on Steam coming tomorrow!
​
Only a couple weeks late to Summer...

Summer Sale, 62% off Site Wide until Tuesday​
what better time to add exclusive seasonal crates than really late into the summer? All crates have been retouched up on and changed the predictability
format to
very common
to
very rare
item drops. These summer crates will go away by the end of the summer and will sell for $3.99 /key with potential drops: Check the links below to see the other huge changes to Ultra, Mega, and Legendary keys.

Summer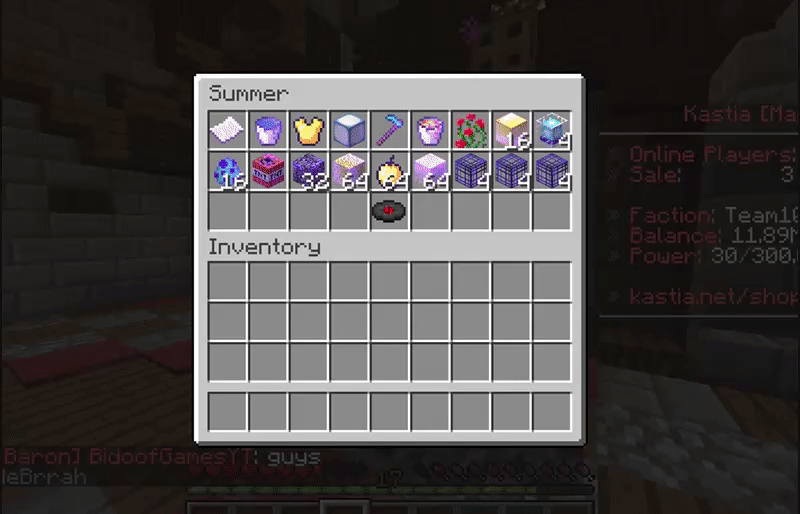 ​
Ultra
https://i.gyazo.com/817d009a282f8ac24fdbf24d39c5a72b.gif
MEGA
https://i.gyazo.com/c4e38c6dc01ebccdab361faad6d13295.gif
Legendary:
https://i.gyazo.com/dcf2301eae1431773f65a6ef7630908a.gif
The purpose of this update is to help lead into another one of our bigger updates coming sometime later this week. This sale could also help if you're looking to help contribute the redesign of our Parkour server. More info available in the Royal+ private discord group.
Stay tuned!
Well I've been playing around with CSS, to make the Stats page look more like the Forums. And well, this is what i got:
​
If you want see it for yourself, click here to see the new stats page.
​
You might see those place holders on the page. Its planned to have custom banners, designed by someone who knows how to do that (spoilers: not me) that would represent every game on Kastia.​
What to expect?
Probably the next thing added will be Factions. It will take a bit more time than the other ones but I'll let you know when its ready!
We also have a couple other things planned, but if you have any suggestion of what do you wanna see on that page let us know!​