Dismiss Notice
Hello Everyone!
As a lot of you may know Kastia was taken down for some updates. We opened the server again on Wednesday the 5th but due to more updates, any progress made on that date will be rolled back. We apologise for this inconvenience. We are still in the proccess of updating our scoreboard on Factions Ruby too.
So whats new?
Sell Wands
Sell wands is a plugin that allows you to sell items in a chest by clicking on it with the wand.
This saves a lot of time for people especially if you have a large faction and a large farm!
Here is a GIF of it in progress: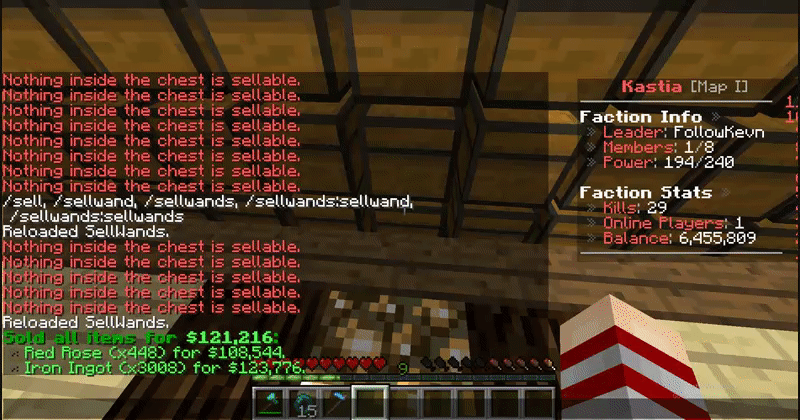 This feature is available for rank Royal and above on Factions Ruby. You can purchase ranks at this link!
Just use /sellwand in-game to get your very own wand!
King of The Hill
King of The Hill is a game mode where players/factions have to capture and hold an area for a specific amount of time. Once a player or faction wins, they will be granted a prize! The KoTH rewards are:
Tier 10 Money Pouch

Random Spawners

Random Gem Items
KoTH will make factions a bit more exciting and competitive for all!

Don't forget that you can purchase Knight for $24.99 and be able to beta test our awesome Parkour game-mode!
Already have Knight? Upgrade!
Thank you for playing on

Kastia

in the month of

June

, I consider this to be officially the first month we were up for although we had 8 days of downtime we really progressed and grew as a community. There are exciting new features we're hiding from you and new games to come!
​
Global:
Hub:
Added new particle replacement
Kit pvp:
Map now shuffles every 30 minutes
New Map, the "Enchanted Forest" made by Kastia build team
New Arena, made by Gingaa
Added 1.8 titles to kills, challenges, and deaths.
Factions:
If you try to set a player bounty, the balance gets instantly removed.
Once the bounty is claimed, the bounty is delivered and so is a head with red text
Added playerheads drop chances 50%
Fixed Error in which water wasnt protecting block damage
Please continue to support the server at our webstore in exchange for donor perks!
store.kastia.net
​
Plugin is causing issues with messaging and replying to people who aren't your friends.
Disabling party in McMMO, and it lets people know when I come online which is annoying.
Vote on the poll, don't be afraid to say it sucks.. we'll have more embarrassing hiccups on the way..
UPDATE: ITS GONE!